The campaign breaks through the clutter
Hits the sweet spot
Founder and chief executive officer of The 120 Media Collective, a Mumbai-based multi-platform content company, Saluja has made television commercials and other content for Unilever, Nokia, L'Oréal, Pepsi, Sony, Johnson & Johnson and Volkswagen.
CAMPAIGN
The new ad for online retailer Flipkart.com titled, "India Wants to Know", by Happy Creative Services, extends the children-as-adults concept. The ad spoofs the format of news TV debate shows. The question and answer format is used to address consumer concerns about online shopping. Tag line: Ab sirf shopping nahin, Flipkart karo (Don't just shop, do Flipkart).
1. What did you think of the ad, production, casting, concept, etc?
Talk about tapping into the zeitgeist.  Who isn't sick and weary of the crap that our news channels subject us to?  And who better to take potshots at than good old Arnab?  Juxtaposing the news setting with the Flipkart Kid World just dials up the amusement quotient to another level.  People always seem tickled by the Flipkart Kid World that's existed on television for a few years now.  I have to say, while it's brought a smile to my face, I've been a tad less enthusiastic about the campaigns than the average person.  That is, until now.  This iteration hits the sweet spot and judging from my Facebook newsfeed, they've definitely scored big across the board this time around.  Well done Happy (the agency) and well done, Ayappa (the Director).  And the production (Early Man Film) is pretty damn perfect too.

2. To your mind, does their decision to use children in their ads work?
Of course it does.  It's allowed them to break through the clutter (more on that below) and to create an ownable world that's limitlessly extendable.  It's probably a casting nightmare but well worth the effort.
3. What must e-commerce sites keep in mind while planning their campaigns for this market?
Cost per Customer Acquisition is a key success metric for startup and e-commerce players.  As a result, production costs and media spend need to be kept to a minimum.  On the other hand, e-commerce is such a crowded space that it's clearly a case of 'differentiate or die'.  Even for a niche space like online baby retail, there are five players I can think of off top of my head.  While online media spend is far more efficient, one player spending heavily online compels the competition to do the same to not fall behind in the awareness and top-of-mind recall battle.  At the end of the day, he who has deeper pockets has a greater chance of success.  That's where creativity can be a trump card in helping bring down that acquisition cost number.  Apparently, Flipkart badly needs it.
4. Any other ad that you think is cool in this category? Could be local or international, please describe it briefly for our readers. 
E*TRADE's "Monkey" from Superbowl 2000 that features an old man and his odd looking younger companion sitting still, then joined by a monkey who puts on some music and starts to dance on a chair.  His human cohorts accompany him by clapping in the most ridiculous manner you've ever seen.  It ends with a super that says, "Well, we just wasted $2,000,000.  What are you doing with your money?", referring to the exorbitant ad rates during the Superbowl.  Gutsy.  Cheeky.  Brilliant.
Pretty much as published in Mint.
I think this is good reason to break my six month silence…I'm driven to do this even though it's 3am and I have to sit on a jury at Adfest at 9am AND I'm running on a sleep deficit.
We arrived in Pattaya yesterday for jury duty, which started at 9am today.  I'm here with the family…Tara, Zen, Kai, Tara's mum, our nanny, Lizzie, and Peti.  Though we have a room overlooking the ocean, you can't really call it a holiday.  I've got three intense days of judging, while Tara has started to shoot the beginning of season 2 of the Tara Sharma Show, which is why we have Peti here with us.  Peti is the Hungarian Creative Director/DOP/Visualizer, etc, etc…of the show, who often accompanies us on our travel with his Canon 5D, as the mostly-one-man-crew behind the show.
Anyway, so I wake up this (Thursday) morning just a bit before I have to report for the jury briefing, having overslept, so I rush through my morning routine (details withheld for obvious reasons).  I find this iMessage message on my iPad from my brother, Avneesh..
Intriguing enough to call him, I'm sure you'll agree…
A bit about Avneesh…he's ten years younger than me, making him 26, and a Ph.D. student at Carnegie Mellon (in Pittsburgh, Pennsylvania), studying Machine Learning & Computational Linguistics.  That's geek-speak for Artificial Intelligence, though he's quick to point out the differences between AI and what's he's studying, at every opportunity he gets (I still don't know what they are).  But as I've explained to him, in my world, buzzwords rule.  So, tough!.  Though we're as different as chalk and cheese, we share some passions like trivia, Japanese food, single malt and Tintin, and are actually quite close.  Aside from being an academic, he's also a former Goldman banker and Stanford alum.  I'm telling you this not because I want to brag about my brother but because these facts are directly relevant to my story.
So here's what happened…
On March 14, some guy named Greg Smith decided to write an Op-Ed piece in The New York Times entitled Why I Am Leaving Goldman Sachs.  He basically slags them for being a morally corrupt organization more focussed on making money for themselves than for their clients. The byline says "Greg Smith is resigning today as a Goldman Sachs executive director and head of the firm's United States equity derivatives business in Europe, the Middle East and Africa."
His piece starts to create a bit of a shit-storm on Wall Street and by the afternoon Eastern Standard Time, a lot of people have either read it or heard of it.  At some point, Avneesh reads it and goes, "Hey, it's Greg!  How cool!".  Not only was Avneesh at Goldman at the same time as Greg, he actually knew him somewhat (relatively) well, as they were both Stanford alumni and Greg was sort of like a mentor to all the Stanford kids who'd join the Equities Desk at 'The Firm'.  I read today that Avneesh referred to him as "the Stanford Equities Captain".
Anyway, so once Avneesh reads the article, he decides to share it on Facebook.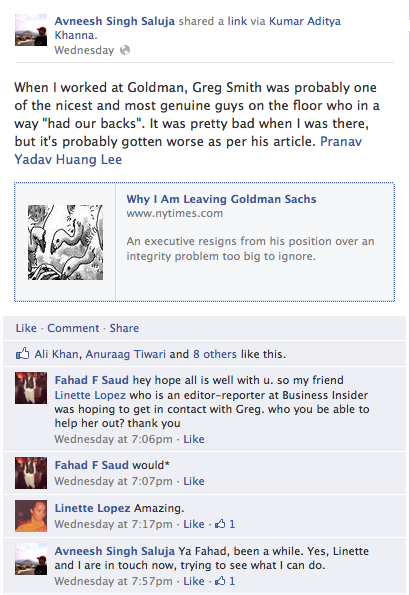 As you can see, soon after, his friend Fahad Saud (yes, that Saud family!) tells him that someone named Linette Lopez, who writes for Business Insider, wants to talk to him to get to Greg.  Avneesh obliges.  He obviously has no contact for Greg, who was just a colleague/acquaintance from a few years ago but Lopez asks him what it was like to work with him, etc.  She then asks if he wants to go anonymous or would be ok with being quoted.  Being as far removed from Wall Street as I am (or perhaps even more), he has no qualms being quoted and consents without a problem.  Shortly after, her piece in Business Insider is up.  That was just the beginning.  Soon after NY Times' Dealbook mentions Avneesh, though mispelling his name. 
Greg Smith, who's South African, conveniently disappeared off the face of the planet, shortly after mailing in his resignation and his Op-Ed.  And Avneesh seems to have become the only link the media could find to him.  So for the next six hours, his phone didn't stop ringing.  From CNN to CNBC to Bloomberg to whoever else, they all wanted a piece of him.  By 8:30 am Bangkok time, I think he's had enough, telling me how he's had to repeatedly refuse television phone interviews on all of these channels.  It's not hard to find his number from his Carnegie Mellon bio page, though he seems to have removed it now.
I also just discovered an FT piece about Avneesh (and Greg).  And there's a slew of others but mostly cut-paste jobs from the ones already mentioned.
I find this whole saga terribly amusing.  So does Greg, I'm sure.
Not everyone may like it, but everyone's singing it—this new campaign is a roaring success
Campaign
The new campaign for Bharti Airtel Ltd by Taproot India showcases a classroom of college students singing a jingle about why every friend is important.
What did you think of the advertisement?
The core concept itself, of depicting the importance of friends, their networks and how a mobile operator ties it all together, is old hat in the mobile sector space across various markets for more than a decade now. What sets this one apart, though, is the manner in which the idea was fleshed out. The newly appointed agency on Airtel's roster, independent hot shop Taproot India, seems to have brought back on track an otherwise iconic advertising brand that I feel was losing its way.
Talking of execution per se, ad film-maker Ram Madhvani (of the Happydent ad fame) has skillfully tied all the elements together to deliver a very memorable film. Though I should mention that I find the casting to be a bit of a missed opportunity. 
The other Ram in the mix (no pun intended), music director Ram Sampath, fresh off the success of (Bhaag DK Bose )and the rest of the Delhi Belly soundtrack, has come through with flying colours. I don't watch much TV, funnily enough, so I haven't seen it on air yet. But I've watched it online three times to write this review, and it has been going on in my head almost non-stop for 24 hours.
And most importantly, the spot really works. Not everyone likes it, but everyone's humming it. Today, an accomplished adman from the agency that handles Airtel's biggest competitor told me how people at his office are even slotting their friends into "ghadi-ghadi kaam aaye" and "ghadi-ghadi call kare".
Do you think this campaign works for the brand?
It does. As I was saying before, the brand seemed to have lost its way. From playing chess with dadaji while enjoying the hospitality of Indian Railways, we suddenly found ourselves on the romantic streets of Prague with a very international vibe. Don't get me wrong, what JWT did as their opening piece to address what was probably a brief to project the brand as ultra-global (post-Zain acquisition and all) was a beautiful feat of film-making, award-winningly executed by Independent Films' Philippe Andre. But I really did find the leap difficult to digest. And I'm not even an Airtel consumer.
The same happened back in the summer of 2009, if I remember correctly, when their previous agency, Rediffusion Y&R, aired a campaign with little kids playing outdoors, again with a very international vibe that screamed to have the Airtel logo replaced with Vodafone's.
So what Taproot and Ram Madhvani have done here is create a very memorable, fun spot that seems to really be in sync with the brand, even though Vodafone, Virgin Mobile and even Aircel come to mind as having barked up the same tree of friends and networking, etc.
What must brands keep in mind when planning a campaign for an extremely crowded category such as telecom?
Distinctiveness and consistency. Of the top few brands in this space, only Vodafone—along with its various antecedents—and Airtel have achieved a distinct brand voice. Idea deserves massive credit for breaking into the distinctive space more recently with their often annoying yet very entertaining What an idea, Sirji. And even more props to (Tata) Docomo for leapfrogging on to the high table within their very short existence, pretty much thanks to that sticky whistle-able jingle. The rest, honestly, are a little behind.
Pugs, Zoozoos, "You and I", et al, make for a pretty unique Vodaworld. As an aside, I should say that I find Vodafone in other markets to be far less distinctive than we have it here in India. Though Airtel too has a combination of certain elements that define its world, chief among which is its audio mnemonic signature tune, it scores lower on distinctiveness.
And I have to say that—rather counter-intuitively for me—Aircel has managed to create some amount of distinctiveness, purely through (M.S.) Dhoni, even though their advertising is really just same old, same old.
In the age of social networking sites, Twitter and new media, how important is it for the brand campaign to be viral or adaptable?
Very. Because if you're not ticking those boxes, you can be sure your competitor is. Especially in a young and tech category, being in sync with the zeitgeist and the latest cool thing is all the more important. How you deliver has now become as important as what you deliver.
How integral is the media plan to the success of a good campaign? In this case, it seems to be everywhere—on TV and radio. Does that work well?
Extremely. With such a powerful track, it's kind of a no-brainer to go on to radio. Whether you tweak your media to suit the idea or you plan it to reach a target audience or fulfil certain objectives, there's no doubt that the media plan is almost as important, if not as important, as the idea. In several cases, rather too often in our market, we've seen that might is right (read: crap ideas that do the job just because they've been supported with a pile of cash).
As published in Mint
This week, I stayed at an ITC property for the fist time in ages.  In fact it's probably been over twenty years.  I was in Bangalore to drop in on a very long shoot that we're doing there…so long in fact, that this was the second time I was "dropping in".  So I planned a two day trip and padded the visit with a few agency and client meetings, having Prashanth @Jack in the Box fly in on one day and Payal, the Bang Bang Producer who's running the "very long" job join me on the other.  All in all a very productive 36 hours. 

For geographical convenience, I chose to stay at the ITC Royal Gardenia and I have to say I was very thoroughly impressed.  Lovely hotel, really modern, well designed, phenomenally good Japanese restaurant, complimentary fresh cut fruit, hyper-fast wi-fi, sensational array of single malts, etc, etc…I could go on.  Anyway, once I check in, the Guest Relations Exec escorts me to my room.  More of the same.  Perhaps one of the nicest, modern rooms I've seen in India.  I say "in India" not because we're not capable of having lovely modern rooms here.  It's just that most five star rooms have a classical sense of beauty as opposed to  a highly designed, ultra-modern look.  So, beautiful room, ample and well located sockets and ports (pet peeve alert) and a lot of other niceties.  The TV's on; and given I'm a practitioner of our noble trade, my antlers immediately take in the Fiama spot playing.  It also strikes me instantly that there's gotta be an ITC thing happening here, which is immediately confirmed once the Essenza di Wills spot plays right after.  Ok, so they've got a showreel of ITC ads on auto-play.  Nothing wrong with that.

Cut to a few minutes later.  I'm in the loo and suddenly subjected to utter shock and horror in finding the soap in the bathroom is none other than Fiama di Wills.  You have got to be kidding me!  What are they thinking???!?  I can understand wanting to leverage existing platforms to cross-promote one's brands.  But for the love of god, give some thought to positioning.  Kahaan ITC Hotels aur kahaan Fiama?  It's ok for HUL to serve only Bru coffee throughout their megapolis in Andheri but do you think the Taj sends Nanos or Indicas for their airport transfers?  Ok I'm being extreme to prove a point but it's not like all their cars are Jaguars either.  I believe their fleet is dominated by Benzes and Beemers.  And they don't just serve Himalaya, they also stock Aquafina. 

Kaya Kalp is the ITC's award-winning spa brand.  I can't be sure but it would be a no-brainer for them to have a Forest Essentials-type line of products.  And if this line does indeed exist, then THAT's what they should have in their accommodation bathrooms and not a very off-puttingly ordinary and cheaply fragrant brand that competes at a rather mass level.  What percentage of their clientele are existing Fiama users? Or how many do they hope to convert?  I said it before but I have to say it again….what are they thinking?

While I'm in the mood for a rant, here's a pet peeve that I've vented about to the perpetrators in the past but to no avail.  So I'm going to go public with it.  Like many frequent business travellers, I am a regular on both Jet and Kingfisher.  The comparisons between the two will be the subject of another blog at another time.  But for now I just want to ask Mr. Goyal and the other good people at Jet Airways….why do you not give your Premier passengers salt & pepper with their meal?  Don't get me wrong.  It's not like you won't be given any if you ask for it.  But if you happen to be sitting in the first row, they'll serve all four or six rows their meal before they get to your humble seasonings.  By which time of course, the omelette or dinner or whatever else has cooled down to a slightly less enjoyable level.  Sounds trivial?  My point exactly.  I'd be interested to know how much money they're actually saving in exchange for a handful of pissed off frequent flyers like me.  Honestly, I fly a lot.  And I've flown some pretty, obscure carriers in my life but not a single one had me requesting salt & pepper.  Of course I'm not counting the ones where you have ask for  your food in the first place and pay for it.  And the really weird thing is that they do serve it in economy.

Anyway, I've written this in the hope that I can get "Mr. Goyal and the other good people at Jet Airways" to take notice of this important issue and take remedial action.  And perhaps I can go down in the annals of history as the man who made Jet serve salt & pepper in Business.
As published on campaignindia.in
Tara & Zen in Zen's debut commercial for Mahindra Retail's Mom & Me. Directed by Bosco.  Produced by Bang Bang.  Now on air across major channels in India.